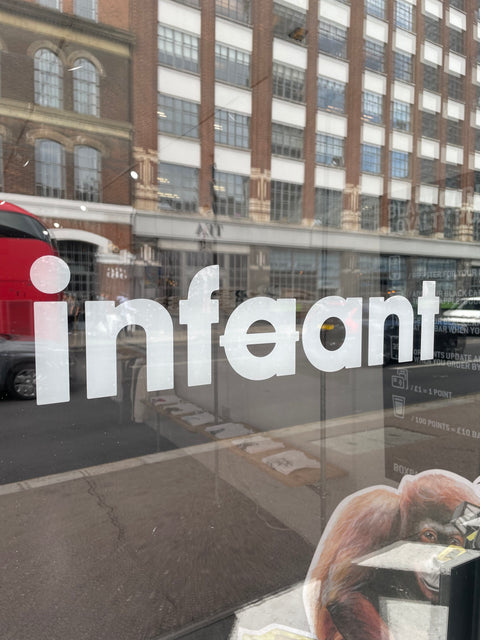 Ry's Diary 'Boxpark Day One (and Two)'.
OK, so here we go:  infaant x Boxpark London 🙌🏽.  For one week only (for now) we will be taking residence in the Boxpark Shoreditch Pop-Up, #15.
Over the next week we will be posting our general ramblings around the highlights, the challenges and the journey - all from our founder Ry re-discovering his roots behind the till.
Day One / Day Two:  Today we kick-off with the 'move' (Monday) and first day of opening (Tuesday):  
'You know, the journey down to Shoreditch was pretty flawless.  On opening the van outside #15 the contents didn't resemble very closely the neat piles we put in, but in-reality it was a good trip.  For anyone that has moved house recently you will likely recall that feeling of satisfaction when the van is empty, right?  
Over the remainder of the day it was all about set-up.  In the days running up to launch we had already reverted to a Plan B when a tube containing all our original artwork went 'walkabout' with Royal Mail.  It still hasn't shown up (despite two confirmed re-deliveries 🤷🏽‍♂️), but let's see - just maybe they will pull it out of the bag. I hope so 🤞🏽. Anyway, Plan B was looking good. 
Not much more to report from Day One, but we did see the London Eye whilst dropping the van off in Waterloo.  I actually have a good story about the London Eye, but one for another day.
Walking in to the unit on Day Two was pretty special.  Despite having seen the range come through production and shipping out daily orders, this was really the first time we have seen the collection fully displayed, and it really hit the mark.  Alongside our new brands to site VEJA and Wood Wood Kids store was looking good.  A little tidying-up to do in the unit and a 'simple' window vinyl to add and job done 😬.
Now, I am not going to bore anyone with the story of the window vinyl, but today that stuff was just not playing fair.  The first batch is in the bin.  Glad to report however, that with some help from the Boxpark team and a heat-gun, batch-two (sourced this morning) was ready to go :)
So, that is pretty much a summary of the first couple of days this week (and pretty much all I have the energy for tonight).  Seeing the brand come to life offline this last few days has been a real treat and to see the reaction of new people to the brand even more so.  Looking forward to the rest of the week :)
Lastly, being in the capital of some of the best street-art to be found, let me finish by sharing the graffiti of the day - found just outside my pad for the week.  Till tomorrow'. Ry x