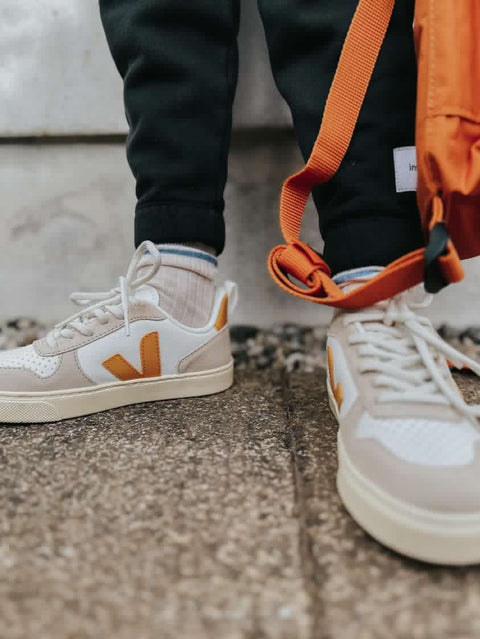 VEJA: Kid's, Junior and Teen Sneakers. SS23 Collection.
Warmer days are upon us and for some of us holidays are not so far away ☀️.  Away go the boots and wellies and out come more sneakers and sandals.  For a lot of us, sneakers are an all-year-round feature, but the start of the summer might just be the perfect time to make that investment in to a pair of 'bright-whites', with less puddles, less mud and more time in the outdoors. 
The choice of kids sneakers today is vast, with mini-me versions of just about everything us adults might wear.  Our favourite?  Well, it is no coincidence that the very first brand we launched alongside our own was VEJA :)
In a sea of sneaker brands today, VEJA is a little different.  On the face of it, styles like the VEJA Kids Esplar, V-10's or Kid's Ollie Canvas are 'another' very cool sneaker amongst other cool brands.  What differentiates VEJA and drives an army of celebrity advocates is the brands approach to production and an obsession to producing in the most ethical way - for people and planet.
Invested in this philosophy, VEJA looks to innovative new fabrics - from their own synthetic leather alternative to organic cottons on styles like the Ollie.  Not so long ago, we might've avoided a synthetic, historically they've not been so great for warm little feet, but this is not the case with VEJA - their innovation in this area offering-up fabrics that more closely mirror the benefits of a real leather - soft but hard-wearing, comfortable to wear and more breathable than a historic synthetic.  For most customers visiting us here in our Leeds store, it is often a surprise that the VEJA sneakers are not in-fact leather, and very often, these customers become advocates of the brand themselves.
We offer a full range of sizing from VEJA, from the tiniest UK6.5 Kids range right up to an adult UK6, spanning the Kids, Junior and Teen ranges, in styles and colour ways that mirror exactly the adult range.  Available in a range of velcro and lace-up options, there is something for the whole family, so a matching pair or VEJA V-10 or Esplar, might just be that mini-me option you're looking for :)
Quality and ethical sneakers with no sacrifice on style.  Explore the new SS23 colurways here. x